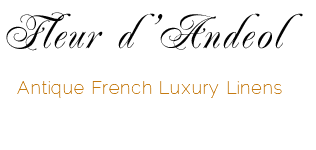 One or two words about us ...
Fleur d'Andeol was created in 2005, however we fell in love long before with the arts of lace, embroidery, and textile fabrication, each of which enjoys its own lengthy and fascinating history in Europe and particularly in France. These represent for us the art of the home, not only for their decorative aspect but more essentially because in France certain fabrics, and especially lace and embroidery, were largely created in the home. Until as recently as the early 20th century, many families had a small loom in their house where the husbands wove linen for sheets and hand towels and their wives embellished them with embroidered motifs as well as the family monograms. Endless hours of patient and meticulous work were applied to the embroidery of each bride's trousseau, which, after its initial use was often carefully folded and stored in the family armoire. It was true to the word a labor of love, so much so in fact that often a soon-to-be bride had all but completed her three some-odd years of painstaking embroidery with the exception of the second letter of the monogram, as she eagerly anticipated the identity of her soon-to-be husband.
The items we offer for sale are for the most part one-of-a-kind and made at a time when materials were not only all natural but spun, woven or stitched with the utmost care and attention paid to their fabrication. If for example we offer a pair of identical sheets or pillow shams, it's most likely that they were embroidered by the same hand. It's also for this reason that once something is sold, it is unlikely that we can duplicate it. Nonetheless, we love what we do and are perpetually in the process of searching for new pieces to add to our collection. 
If you are seeking something but don't find it in our catalog, please don't hesitate to let us know. Our stock is far too plentiful to list in its entirety on the website, but if you provide us with a description we'd be happy to search through our inventory for your special piece. We're working steadily to keep our stock as well as our site updated and bountiful.